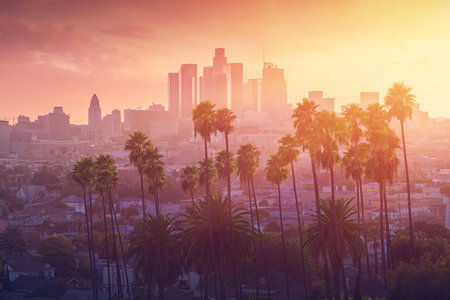 Addiction does not discriminate. Whoever you are, whatever kind of life you've lived, whoever your family was; none of these things exempt you from risk that substance abuse or excessive consumption of alcohol can lead to the serious problems of addiction.
Urban and suburban communities, rich and poor neighborhoods, and families of all ethnicities can all be affected by the devastating impact of substance abuse. While many places in Southern California may seem peaceful, idyllic, and sunny, the people of Los Angeles and its surrounding communities have an urgent need for recovery.
The Problem: World-famous as a center of entertainment and glamour, as well as home to prestigious universities and breathtaking scenic beauty along its beaches and mountains, Los Angeles attracts people from all over the U.S., and the world. Millions of people come here looking for a better life for themselves or their families, but they also encounter poverty and struggles that make them vulnerable to substance abuse. The connections with the rest of the world that create such a strong melting pot also come with a darker side.
Close proximity with Mexican border, an extensive transportation network, and some of the world's busiest container ports can create ideal situations for smugglers and the distribution of drugs. For all of these reasons, many people in Southern California are directly affected by substance abuse and addiction.
In 2010, the Los Angeles County Department of Public Health reported that, in Los Angeles and its surrounding cities, drug overdose and alcohol poisoning were the fourth-largest cause of premature death, with 923 drug-related deaths and 145 drug-assisted suicides. The department also reported that 60,629 residents were admitted to treatment in a publicly-funded addiction treatment programs. Of those, 27.2 percent were primarily treated for marijuana, 25.6 percent for alcohol, 18.1 percent for methamphetamines, and roughly equal amounts for cocaine and heroin.
Keep in mind that National Institute on Drug Abuse estimates that only about 11 percent of people in need of recovery treatment actually receive it. The problem of addiction in our communities is too big to ignore.
Rehab in Pasadena: If you, or someone you love, is struggling with substance abuse and the dangerous cycle of addiction, you need to know that change is possible. Experienced staff able to provide compassionate, evidence-based, and personalized support can make a huge difference in helping you get your life back.
The Gooden Center is located in Pasadena, a diverse city rich in cultural experiences and stunning views of the San Gabriel Mountains. Less than ten minutes away from downtown Los Angeles, our facilities are able to offer both comfort and warmth from a home-like environment, and exciting opportunities for jobs and fun. Many of the program's alumni have found it to be the perfect place to begin a new life.