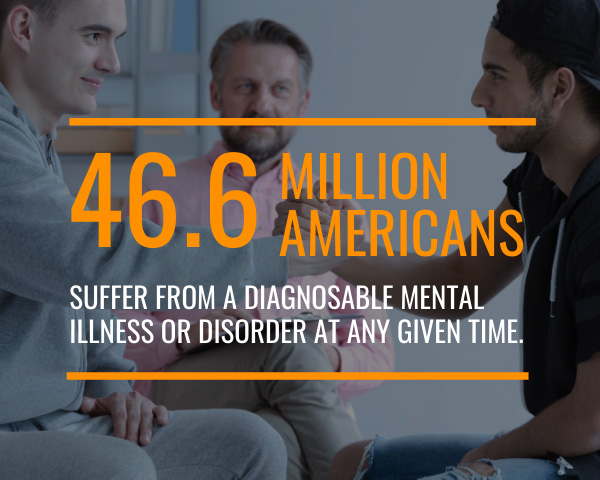 Some 46.6 million Americans, or 18.9% of us, suffer from a diagnosable mental illness or disorder at any given time. Yet, nearly half of us will experience a mental illness at some point during our lives, moving in and out of periods of depression, anxiety, trauma, borderline personality disorder, psychotic breaks, and other problems. For millions of us, mental illnesses are life-altering, debilitating, and even deadly. This holds especially true for men, not only because men are less likely to be diagnosed, but also because men are also more likely to suicide less likely to seek out mental health treatment. 15.1% of all men likely have a mental disorder at any given time, yet many never seek out mental health treatment. Men often avoid treatment or even visiting a doctor because of engrained ideas of masculinity and toughness, are less likely to be diagnosed with mental illness if they do go to a doctor because of those same ideals, and are more likely to use deadly force when attempting suicide.
As a result, men have a 350% higher chance of dying by suicide than women, making up 1.5% of all total deaths. And, less than 55% of all men who die by suicide have had contact with a mental health professional. We need to change how men approach mental health if we are to protect ourselves. We need to take men's mental health, including the unique social pressure men face, seriously and that means gender-based treatment.
The Gooden Center offers a men's mental health treatment program, designed around the specific needs of men. With treatment designed around your needs, a male-only environment in which no one feels pressured to act a certain way to maintain "face" to someone of another gender, and mental health professionals specializing in men's problems, our program is designed to offer every man the best possible tract back to a happy and healthy life.
Men and Mental Health
Men face significant and unique mental health problems, with different upbringings, different social expectations, and very different emotional and mental social responsibilities.  Men also face increasing loneliness, online pressure, and gender gaps where it is more difficult to find a spouse and to have children. As a result, men are moving "life milestones" further back, while shouldering more responsibility at work rather than in a fulfilling family life.
Social Pressure and Gender Roles – Men face significant pressure from gender roles, especially in the United States. "Manly" is used as synonymous with "tough", men are providers, men have to be strong. These social expectations heavily influence how and when men seek out treatment. How can you be "Manly" if you also have anxiety? How can you be a provider if you can barely make yourself wash dishes? Men deal with feelings of hopelessness and worry by simply not talking about them, leading to hugely disparate rates of suicide, worsening patterns, and heavier reliance on substances to "manage" symptoms. In fact, while men are significantly under-diagnosed in anxiety and depression, men are 300% more likely to be diagnosed with a drug or alcohol addiction than women.
Men are more likely to face strong pressure from work and careers.

Men are more likely to feel stress and loss of identity on losing a job.

Men are more likely to feel pressured into forcing themselves to work a job they hate to provide for a family.

Men are more likely to feel that they can't talk about "weaknesses" like mental health problems.

Men are less likely to learn basic self-care skills like laundry, cooking, and cleaning in the home and are therefore less able to take care of themselves when single.

Men are significantly more likely to end up homeless following a bout of mental illness.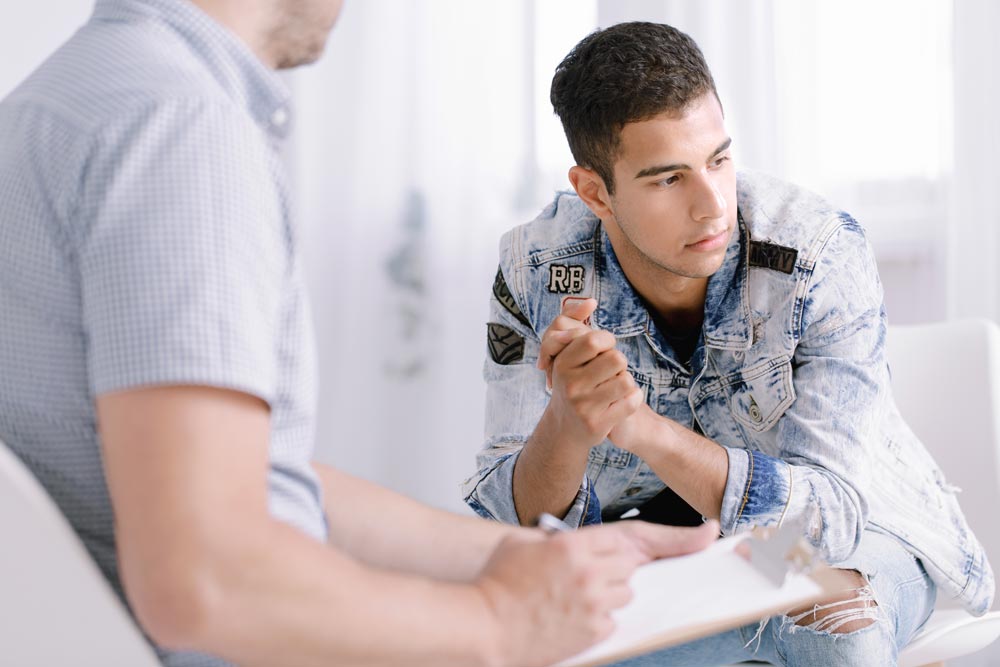 Gender Disparity in Diagnoses and Prescription – While men are equally prone to some disorders, and more prone to others, they are 20-31% less likely to receive a psychiatric diagnosis or to even be forwarded to mental healthcare from a general practitioner. This disparity relates to stigma, perception, and engrained social behavior, where men are often raised without full emotional or mental health literacy. Instead, men are told to "toughen up", "man up", and "tuck their chin". This treatment of men is unhealthy and deeply undermines our ability to seek help and to voice what our problems are when we do seek it. This also contributes to a higher percentage of men with mental health problems committing crimes, leading to higher incarceration rates.
Men are less willing to seek out mental health treatment for fear of stigma.

Men are heavily stigmatized for mental health problems, especially anxiety and panic disorders.

Doctors may be less willing to diagnose mental illness and may actually embrace stigma.

Men are less likely to have a vocabulary or an understanding of their emotional and mental state, with which to properly communicate what is wrong. This can lead to a focus on physical symptoms such as "I'm tired", or "My body hurts", rather than discussing feelings. This leads to a misdiagnosis.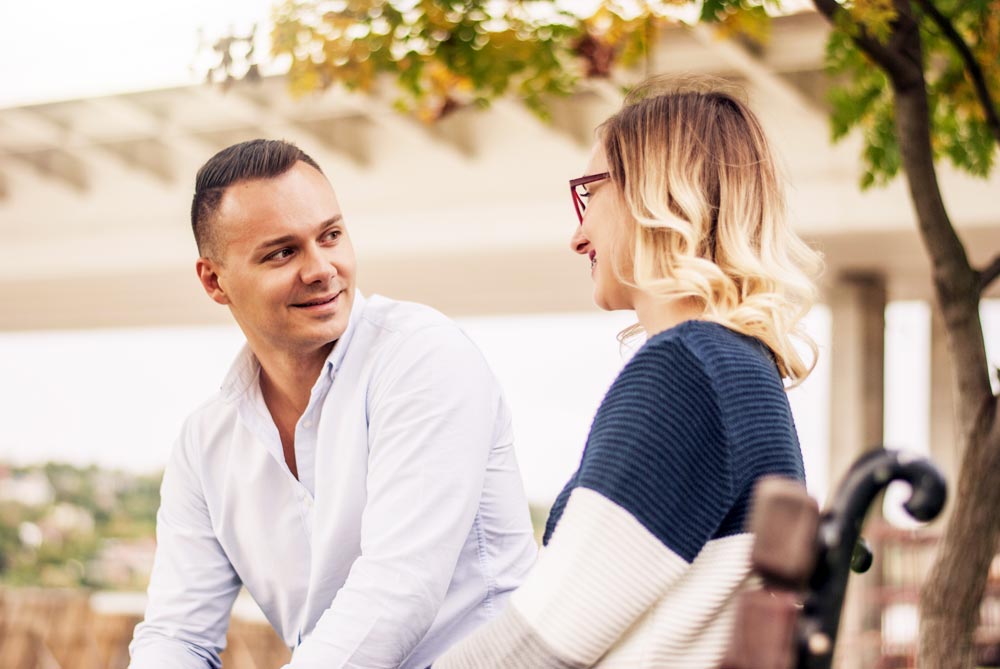 Social Intimacy and Loneliness – Traditional ideas of masculinity often separate men, making them less likely to seek out social intimacy, less likely to develop close bonds with non-romantic contacts, and less-likely to seek out support. As a result, men are significantly lonelier than women, starting from about 12% more likely to be lonely in adolescence and early 20s, to more than 50% more likely to struggle with loneliness in middle age. This is especially exacerbated by divorce courts and separation, where women are significantly likely to receive custody of children and even sole custody.
Biological – Men are more vulnerable to different mental disorders than women, with more instances of borderline personality disorder, psychosis, split personality disorder, and schizophrenia than women.
Men also typically exhibit different symptoms than women for anxiety, depression, bipolar disorder, and trauma. Understanding these biological differences is critical to proper diagnosis and treatment.
When Should Men Seek Out Mental Health Treatment?
Many men can benefit from seeking out a mental health professional for a discussion. Mental health treatment is designed to be preventive as well as helping individuals to manage symptoms. You don't have to be in a crisis situation to talk about mental health. Many people also fail to seek out mental health treatment when facing a crisis situation. For example, the following all count as major mental health problems: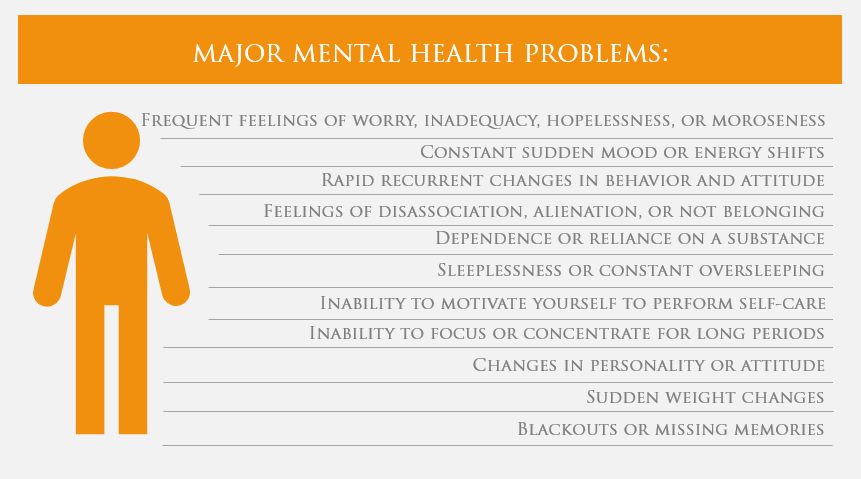 You should seek out mental health services if you are feeling any recurrent, negative emotional patterns, find yourself struggling to perform daily tasks or work, don't understand your emotions or behavior, or otherwise are not coping.
Mental health services can:
Help you understand how you feel and if something is wrong.

Give you tools to improve quality of life through emotional regulation and mental self-care.

Manage symptoms if a mental illness is present.

Improve your ability to deal with stress and anger.

Improve relationships and social bonds.

Reduce negative and destructive behaviors like substance abuse, overspending, or impulse behavior.
Men can benefit from mental healthcare even if they aren't facing a mental illness when they seek it.
Should Mental Health Treatment be Gender-Based?
If you are struggling with a mental health disorder, you might wonder if it's worthwhile to seek out a men's mental health program rather than a group that doesn't divide based on gender. Most research suggests that it's highly beneficial to treat men and women in different ways. The World Health Organization shows that men's and women's mental health treatment should be intrinsically different at several stages.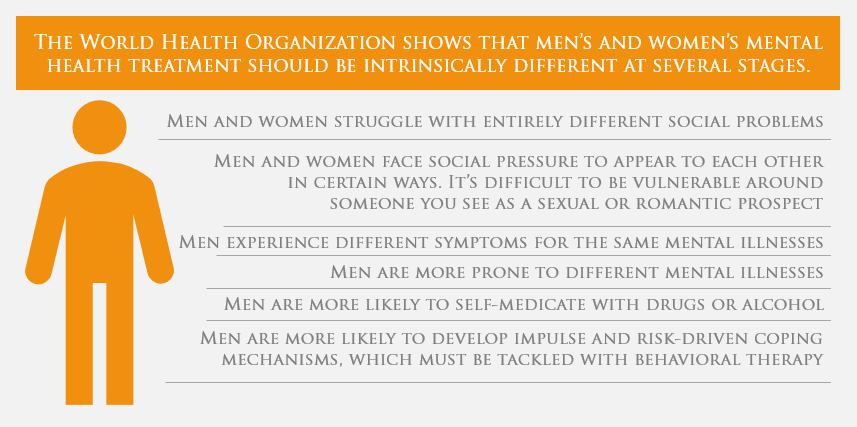 Essentially, mixing genders in treatment can prevent men from fully engaging with treatment because they might be responding to engrained ideas of expected behavior. It might also sidetrack treatment and reduce the quality for both sides, because men and women experience and show intrinsically different problems with the same disorders.
Men's Mental Health Treatment Phases
Mental health treatment at the Gooden Center in Southern California is delivered through either residential treatment or intensive outpatient care, with multiple options for aftercare and ongoing support.
Residential Treatment Center
---
RTC or Residential Treatment Center is the most in-depth mental health treatment option. You visit our Pasadena mental health clinic and stay with us, in a home-like environment. Here, you receive personalized care with 24/7 monitoring, full support from a caring and empathetic staff, and full access to a range of complementary therapies throughout the day. Our inpatient mental health treatment program is delivered over 90 days, complete with a non-repeated DBT program, daily ACT and CBT groups, and one-on-one therapy. Every visitor receives daily access to gym, exercise, nutritional therapy, and other programs designed to improve your health and wellbeing for the long-term.
Partial Hospitalization Program
---
Our Partial Hospitalization Program delivers the same 90-day DBT program delivered with our base residential treatment, with ACT and CBT groups, plus one-on-one therapy, typically delivered over 5 days per week. Normally sessions last 3-8 hours, and you return to your own home for the rest of the day. Our PHP program offers a structured and highly supportive way to seek out mental help while still fulfilling responsibilities, taking care of family, and otherwise, living your life.
Intensive Outpatient Program
---
Our Intensive Outpatient Program or IOP offers a lighter mental health treatment solution, delivering 3-8 hours of counseling and therapy 3 days per week. These programs deliver non-consecutive treatment, but still offer personalized treatment and support as well as access to complementary therapy such as nutritional therapy.
Transitional Living
---
Many people need ongoing support, with a strong focus on life skills, learning to live in a healthy way, and incorporating counseling and support for stress and triggers as you move back into daily life. The Gooden Center offers transitional living opportunities in Pasadena, supporting our alumni long after graduating a program.
Aftercare
---
Mental illnesses cannot be cured. For many of us, they remain recurring issues throughout our lives. It's crucial to continue to follow up and to continue to seek treatment. That's why the Gooden Center offers a free aftercare program to our alumni.
What's Included in Men's Mental Health Treatment at Gooden University?
Meeting the needs of men's mental health means creating personalized, comprehensive programs around men's healthcare. Here, it's important that men have male counselors and psychologists, male peers, and a program oriented around the needs of men and their problems. The Gooden Center offers a strong mental health treatment program for men using evidence-based treatment including cognitive behavioral therapy, dialectical behavioral therapy,
Mental Health Treatment
The Gooden Center delivers evidence-based mental health treatment designed for men and their needs. This includes a complete program of DBT with supporting DBT, ACT, counseling, and on-on-one therapy. We also offer complementary therapies including life coaching, nutritional therapy, and exercise therapy to ensure you can build a full and healthy life following treatment.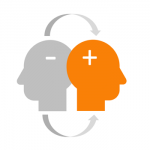 Psychotherapy
---
DBT – Dialectical Behavioral Therapy combines behavioral therapy with emotional regulation, mindfulness, and acceptance, delivering programs designed around shifts in personal behavior, acceptance, and accountability.
CBT – Cognitive Behavioral Therapy delivers strategies focused on helping individuals recognize and change negative behavior and thought patterns, with the intent of building new and better ones.
ACT – Acceptance and Commitment Therapy works to introduce healthy coping mechanisms for negative emotions, so you can cope and move on.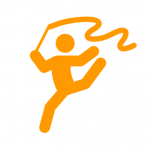 Complementary Therapies
---
The Gooden Center is a firm believer in delivering holistic care. That's why all our programs come with complementary therapies designed to improve total body health, life happiness, and life skills. These therapies won't necessarily "treat" your mental illness, but they will help you to improve self-care, cope, improve mood, and improve your attitude and health long-term.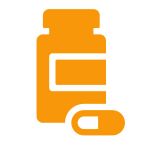 Medication
---
Some of our patients require medication to cope with and manage their mental illnesses. We fully support this and will work with your doctor or psychiatrist to ensure that you have access to the medication you need to stay healthy.
Getting Help

If you or a loved one is struggling with mental health, getting help is the first step to getting your life back. Men face stigma, internalized and external, often don't have the tools to approach mental health, and often struggle to accept diagnosis. At the same time, men are incredibly vulnerable to mental health problems. There's no shame in getting help.
Join us at our mental health clinic in Pasadena for a free tour, to see our facilities, meet our staff, or learn more about our male-oriented mental health treatment program. Or, call us at 800-931-9884 to get started today.