Mental Health & Substance Abuse Treatment for Men and Women
Gender Specific Treatment
Through intense clinical, holistic, and experiential therapies, The Gooden Center provides the tools needed to gradually re-enter society and have an independent, fulfilling, and productive future.
The Gooden Center was awarded a license by the state of California to deliver mental health residential treatment and is accredited by CARF for mental health services. We have created a program which is safe, supportive, and enriching to our clients and their loved ones.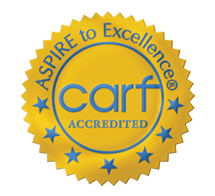 What Is Treatment Like at Gooden Center?
Our unique facility in beautiful historic Pasadena, CA is more than a treatment program. The Gooden Center is a community of people dedicated to a single purpose: to help show the way out of the debilitating cycle of alcohol and drug dependency. It is a community supported by a talented staff that has a passion for the work they do. The continuum of care available allows a new client to transition smoothly through appropriate levels of care.
Success Stories
"This is Frankie in Phoenix, AZ (2009 alumni) just dropping you a note to say hello. Hope you're doing well and thank you for helping me get sober. Still not drinking any alcohol since January 20, 2009. Sending you my thanks and my love. Hope you're doing well and I hope this message finds you."

Frankie Z.
"Bishop Gooden Home has offered me the perfect environment for establishing a solid foundation of recovery. I came to BG because I was about to relapse again and I felt this was my only hope of avoiding disaster. Now I am enthusiastic again about attending A.A. and G.A. meetings, working the steps, having a sponsor and praying for strength from a power greater than myself. Thank you "BG" from the bottom of my heart."

Randy J.
"I found a great sponsor from the Gooden Center alumni, and we are vigorously working the 12 steps. Gooden Center is an anchor in my life – a vital part of my recovery."

Adam H.
"Bishop Gooden Home has given me a chance to turn my life around. My family and friends are grateful they are getting the old Tom back."

Tom C.
"The fellowship and camaraderie I've gained are amazing. I loved my time here and the freedom I had as it helped me step back into the real world."

Nathan C.
We Are In-Network and Contracted with Most Insurances
As a nonprofit, Gooden maintains a complete commitment to accessibility. Clinical excellence should not be reserved only for individuals with thousands of dollars to spend on treatment. As such, Gooden is in network and a preferred provider for most insurances, including: Anthem Blue Cross, Aetna, Cigna, UBH, Optum, Value Options, Blue Shield, Healthnet, and Magellan. Furthermore, our self pay rates average 65% less than for profit facilities. The care continues long after graduation, as the Gooden Center offers therapeutic aftercare, at no cost, forever, for the client and their family.
























Get Help Today And Start A New Life
We provide effective care, ongoing support, and family inclusive opportunities that insure lifelong health for its clients challenged by mental health illness and substance use disorders.
In our vision, every individual receives the help they need in order to achieve and maintain lasting sobriety and a state of mental, physical and emotional health.
Call us and get help today.
Or Simply Fill Out The Form Below.