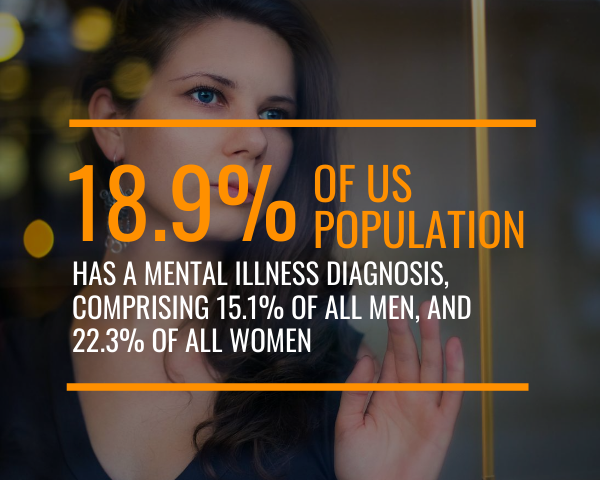 If you or a family member is struggling with mental illness or mental health, you're not alone. Today, some 18.9% of the U.S population has a mental illness diagnosis, comprising 15.1% of all men, and 22.3% of all women.  Women are significantly more prone to mental illnesses including anxiety, and depression, face similar rates of bipolar disorder and borderline personality disorder, and are significantly more likely to experience gendered violence including rape, domestic abuse, and sexual harassment.
While 23% of all women are seeking mental healthcare of some kind, many eventually relapse into illness. Today, 72-89% of all female suicides followed a short period of mental healthcare. Women face gender-specific, social and biological problems and symptoms not experienced by men, face significant social pressure around men, and therefore often require gender-specific mental healthcare if it is to have a meaningful impact on our mental health and our lives.
The Gooden Center delivers evidence-based mental healthcare treatment at our Pasadena facility, including a completely women's mental health treatment program. We believe it is critical to receive support from a group and from medical professionals who fully understand the impact of gender on your life, and are able to provide a safe, supportive environment.
Women's Mental Health
Women face numerous mental health problems that are female-specific. Women are asked to maintain standards of purity and "goodness", to care for family, to take on household work and chores, and to be emotional caretakers for the family. Women also face many additional complications from biology, including hormonal birth control products. Understanding the many social and biological influences on women's mental health, the differences in symptoms between men and women, and the social pressures women face is critical to delivering quality, effective treatment.
Women are More Vulnerable to Trauma – Most women will eventually experience sexual harassment of some kind. This is prevalent across all demographics, but especially true in individuals who have experienced a substance use disorder, women of color, and trans women. The United Nations shows that 70% of all women will experience violence from an intimate partner at some point during their lives. This creates significant impact on mental health and depression. In one study, it was shown that women who have experienced violence from an intimate partner are as much as 70% more likely to attempt suicide. Women who are or who have experienced violence in the home are high-risk for depression, anxiety, and borderline personality disorder.
Depression, Anxiety, and Gender – Women are significantly more likely to experience depression and anxiety. In fact, 33% of all women will have an anxiety diagnosis at some point in their lifetime, compared to 22% of all men. Women are nearly twice as likely as men to be diagnosed with depression or anxiety and there are many factors at play. For example, women are significantly influenced by estrogen and progesterone hormones, which play a significant role in depression and mood. Women also face significant pressure on presentation, personality, attitude, and morality, combined with cultural values creating low self-esteem and poor self-sufficiency.
2.2 out of 100 women on hormonal birth control develop depression, vs. 1.7 out of 100 women without it according to Harvard Health

Women are significantly likely to be financially reliant on an abuser because of children, poor job skills, inexperience, etc.

Women are significantly likely to develop codependency relationships with abusers.

Natal and post-natal depression and anxiety affect 29.2% of pregnant women and 16.5% of post-partum women, but most never receive treatment, leading to ongoing problems.

Gender Bias in Treatment – Doctors have treated women differently for mental health concerns for most of modern medicine. Early ideas of women's "Hysteria" developed into a culture and medical trend of using sedative medication to treat women for any mental health problem, which is an idea that still influences medical doctors today. In fact, women are almost twice as likely to have an antidepressant prescription than men, and more than 10 times as likely to have an antidepressant prescription without symptoms. Women are often handed prescription medication without follow-up mental health treatment in the form of behavioral therapy or counseling. While this is changing, many people who reported symptoms of mental illness in the past remain untreated. Some medical doctors also retain biases surrounding hormonal influences on mental health, and may suggest birth control, weight loss, and other mitigating measures rather than therapy.
Differences in Symptoms – Men and women display significantly different symptoms relating to the same disorder. Men are more likely to be irritable, to have mood swings, and to show public symptoms. Women are more likely to attempt to hide symptoms in public and to resort to self-harm, small-dose abuse of alcohol and prescription medication, and eventually "breaking down". These intrinsically different symptoms can lead to poor diagnoses.
Gender Roles and Responsibility Related Stress – Women are under significant social pressure in most cultures. Women are expected to be caretakers and providers, to offer emotional support, to be pure ("She's my better half"), to perform domestic labor, and to manage the household in its entirety. This, in combination with shifting gender norms, has seen many women increasing responsibility to take on full time jobs as well as childcare, emotional support for a partner and children, and often, care of aging parents. This large amount of labor can result in increased risks of depression and anxiety, as high levels of stress are a vulnerability factor.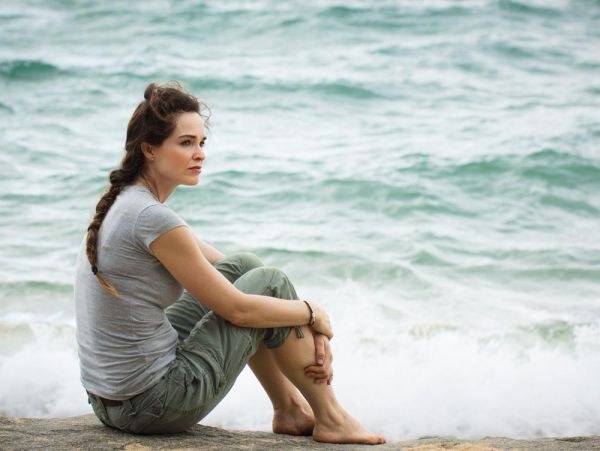 Women in low-income households are most at risk, with increased levels of responsibility.

Women are significantly likely to be asked to shoulder emotional burdens of family members struggling with stress and mental illness.

Women often receive less down-time and more responsibility than male family members.

Women are expected to "Be there" and to be supportive, especially when they do not have a job outside the home. This can result in not having days off or breaks from chores and work, and highly increased levels of stress.
Treating Gender-Specific Issues in Women's Mental Health
Men and women face different social pressure, different biological mental illnesses, different stress points, and different vulnerabilities. Sexual and social pressure asks women to present a perfect image of themselves to men, with many refusing to even be seen in public without makeup. Women face significant social pressure to present themselves as healthy, clean, and pretty, putting pressure on women in gender-mixed mental health treatment. Women may "autopilot" into socially generated behavior rather than fully committing to therapy and to recovery.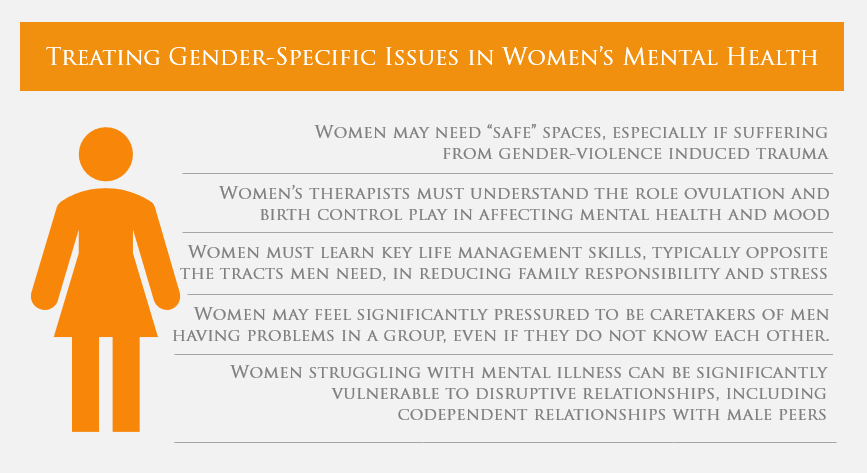 Women's Mental Health Treatment Phases
The Gooden Center is a mental health treatment facility in Pasadena, South California. We deliver a women's mental health treatment program with residential treatment, where patients stay in our home-like care facility with a group of other women. We also offer partial hospitalization programs, intensive outpatient programs, and long-term aftercare.
Residential Treatment Center
---
RTC or Residential Treatment Center is delivered at our Pasadena mental health facility. This option is strongly recommended for women facing high levels of pressure and stress at home, because it involves stepping out of those responsibilities and staying at our care facility for up to 90 days. This treatment option delivers 24/7 monitoring and full access to 8+ hours of therapy, group counseling, and complementary therapies. Every patient has daily access to gym, exercise, and programs designed to improve health and wellbeing, personalized to your individual health and comfort level.
Partial Hospitalization Program
---
The Partial Hospitalization Program or PHP at the Gooden Center offers a lighter approach to therapy and care, with a 5-day program. Here, you spend most days of the week at our residential treatment center but typically have weekends free and return to your home either during the day or at night. This option is ideal for women who are family caretakers, who have children in school, or who need less support. PHP programs offer strong support but are lower budget and can allow you to seek out care without stepping away from family responsibilities.
Intensive Outpatient Program
---
The Intensive Outpatient Program or IOP is delivered 3-days per week, with 3-8 hours of care. This is our lightest program, offering support, while giving most women freedom to pursue family, work, or study responsibilities. IOP programs are best suited to women who have either already completed an RTC program or who experience relatively moderate mental health symptoms.
Transitional Living
---
Transitional living offers the opportunity to move out of a treatment program and into a job or career, without moving into your own home or living on your own. Transitional living provides more structure and more support, making it ideal for women with bipolar disorder and schizophrenia, or who are concerned about triggers and relapse when moving back into everyday life. The Gooden Center offers transitional living for women in Pasadena and other parts of South California.
Aftercare
---
We believe that mental health concerns are ongoing. That's why we deliver an extensive aftercare program to our alumni, for free. Alumni can continue to visit our weekly aftercare meetings for support for as long as they want.
Women's Mental Health Treatment at the Gooden Center
We deliver evidence-based mental health treatment in a home-like setting. The Gooden Center staffs highly trained, medically qualified personnel, capable of delivering personalized, highly empathetic care focused around the specific social, cultural, and biological needs of women in our care. We understand that men and women have vastly different experiences, different biology, and different needs. Our mental health programs must be distinctly different to account for those needs and those problems. Our women's mental health treatment program is based on dialectical behavioral therapy with supporting cognitive behavioral therapy, acceptance and commitment therapy, and complementary therapies including nutritional and exercise therapy. Our goal is to deliver a holistic, whole-body approach to treatment to help you get and stay as healthy as possible.
Psychotherapy
---
Dialectical Behavioral Therapy – Our DBT program is delivered as a 90-day consecutive treatment program in RTC, and non-consecutive in other forms of care. This treatment focuses on emotional regulation, personal behavior, acceptance, and accountability, with the end-goal of building better coping, regulation, and self-management skills.
Cognitive Behavioral Therapy – Cognitive behavioral therapy is a standard for treating women's behavioral issues, focusing on identifying negative behaviors, finding the root cause of those behaviors, and building new, healthier behaviors in their place.
Acceptance and Commitment Therapy – Acceptance and Commitment therapy is designed to help women recognize and accept negative emotions, which can eb especially helpful for women with unhealthy self-image, unhealthy ideas of acceptable levels of positivity for women, and poor self-esteem.
Complementary Therapies
---
We deliver a strong program of complementary therapies designed to improve self-esteem, coping mechanisms, life skills, and stress management.
Stress Management – The Gooden Center offers multiple stress management programs including mindfulness and meditation, yoga, and stress management courses.
Life Coaching – Women who need coaching with life skills, with balancing domestic chores, with childcare, and with family and relationships should receive it as part of therapy. We provide personalized life coaching as well as group courses to build confidence and life skills.
Health – We deliver multiple complementary therapies around health including nutritional therapy and exercise therapy. These are designed to balance mood, improve overall health, and improve energy levels.
The Gooden Center offers other complementary therapies and you may be recommended into music therapy, art therapy, or others based on your personal needs.
Medication
---
Many mental illnesses require long-term support from prescription medication. All our patients are able to take prescription medication during their stay, with support for that medication worked into the program.
Getting Help
Millions of women struggle with mental illness. You are not alone. But, you don't have to struggle alone. Seeking out mental health treatment can greatly improve your coping, your long-term happiness, and your ability to live and enjoy your life. Women are vulnerable to depression, anxiety, trauma, bipolar disorder, and much more. Seeking out treatment will help you cope and will help you improve your life.
If you're ready to get help, call us at 800-931-9884. Or, visit our mental health treatment facility in Pasadena for a tour.