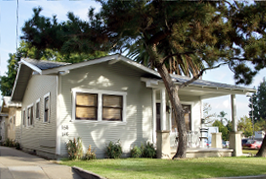 Drug and Alcohol Detoxification Services
Our medical consultant determines if detoxification is needed prior to admission into our treatment programs. In less severe situations, ambulatory detoxification or outpatient drug rehab is recommended for clients that do not need 24-hour medical supervision. Ambulatory detox clients reside at Holliston Court and are taken for daily office visits with our Medical Consultant or another physician of their choosing. Vital signs are checked throughout the 24-hour period. When ready to transition, the client will most likely be admitted into the residential treatment program , which takes place at Bishop Gooden Home. Our medical Consultant, Dr. William Skinner, is a board certified member of the American Society of Addiction Medicine.
The Gooden Center also provides referral services and inpatient detoxification services for clients that are in need of more intensive medical detox. Under these circumstances, clients will be admitted under 24-hour supervision of a medical professional and will be treated as necessary. These detox services can last anywhere from a few days up to two weeks.
Dual Diagnosis
In addition to treating those solely with addictive disease, we also admit clients who are diagnosed with mental disorders as described in the DSM IV, Axis I. Our Program assists in identifying and addressing the symptoms while keeping enough focus on the ever-present disease of addiction. The staff coordinates off-site psychiatric evaluation and consultation. We do not treat conditions that are so debilitating as to interfere with participation in residential treatment programs.
Once the condition is stabilized enough to make this participation possible, the client can continue with treatment. Our Clinical Director provides a weekly group to address the needs of those dealing with Axis I Dual Diagnosis issues. A diagnosed co-occurring psychiatric disorder may need medications not only to stabilize the mental disorder, but also to prevent any resulting drug relapse. We provide on-site medication monitoring.
Follow-up Monitoring
At any time during his treatment, a client may elect to participate in a year- long program of random drug screens and weekly phone conversations. In situations involving a court, licensing body or place of employment, the Follow-Up Monitoring may be a pre-set condition of alcohol addiction treatment or heroin treatment. Participants will be asked to speak on the telephone for approximately 15 minutes with a counselor once a week. They will also submit a written summary of recovery activities, such as A.A. meetings attended or meetings with a sponsor or therapist. Additionally, each participant will be asked, at random, to supply a urine sample at a testing location near to him.