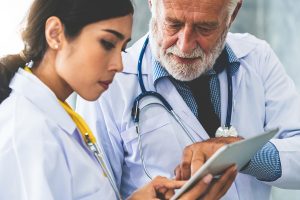 As the opioid crisis in the U.S. continues to escalate, the government is looking for solutions that may help alleviate the situation and save lives from the dangers of opioid abuse. The U.S. Preventive Services Task Force is recommending that doctors screen all their patients for signs of opioid addiction in order to address the problem early on. The more opioid abuse is recognized and treated in a medical setting the more likely overdose rates will start to decrease.
The national panel of health experts that make up the task force asserts that all U.S. adults who are 18 and over need to be screened to see if they are at risk for opioid addiction. The experts are hoping that if doctors are able to detect addiction and are more aware of the problem in every one of their patients then it will help reverse some of the growing problems with prescription drugs. In the past, health experts were unsure whether screening would be effective but they now believe that it could result in successful intervention.
Physicians are now recommended to use short written questionnaires or private conversations with patients in order to find out if they have a problem with opioids. There may be challenges involved such as getting honest answers from patients who may fear the stigma associated with their addiction. Doctors may need special training in order to handle the situation so that they can accurately identify an addict and refer them to a treatment program to get help.
Screening may be the next step in trying to combat the increasing rates of opioid addiction throughout the nation. Urging physicians to be more aware of possible drug abuse issues can increase interventions and get more people into treatment before it is too late.
References
https://www.statnews.com/2019/08/13/screening-illicit-drug-use-adults/
Tags:
opioid addiction
,
opioid crisis
,
preventive services