Emotional & Spiritual Sobriety
Map Unavailable
Date/Time
Date(s) - September 27, 2014
8:30 am - 4:30 pm
Categories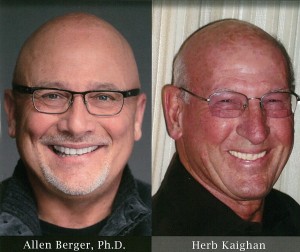 Emotional & Spiritual Sobriety
Dr. Allen Berger & Herb Kaighan
Recovery follows three stages:
Getting clean & sober – physical sobriety
Staying clean & sober – emotional sobriety
Living clean & sober – spiritual sobriety
Staying clean & sober and living clean & sober are characterized by learning to have healthy relationships.
This presentation will help you have healthy relationships with yourself, others and "OTHER", and to take ownership and full responsibility for your life.
Based upon Bill Wilson's Grapevine Article "Emotional Sobriety" and The Big Book's Twelve Step promise of a sustained "Spiritual Awakening"
Workshop held Saturday, September 27, 2014 on  the beautiful campus of Fuller College in the Travis Auditorium
Please Bring Your Big Book
8:30 am                               Registration / Coffee
9:00 am – 12:00 pm           Workshop
12:15 pm – 1:15 pm            Lunch
1:15 PM – 4:30 PM            Workshop
Workshop and Lunch are FREE
Herb Kaighan, Spiritual Director (30 years sober)
Through working the steps as contained in the Big Book, with the guidance of a "Step Guide" he experienced a profound spiritual awakening.  Since then he has been very involved in carrying the message of recovery through sponsorship, facilitating workshops, and leading retreats.  He will discuss "Our Way of Life" – the path of improving our consciousness with self, others and "OTHER".
Dr. Allen Berger, Clinical Psychologist (42 years sober)
Dr. Berger will discuss Bill Wilson's letter to help a depressed friend that was written 1956.  He will elaborate on Bill's letter by discussing how it relates to other mental health concepts like emotional dependency and self-esteem.
Bookings
This event is fully booked.